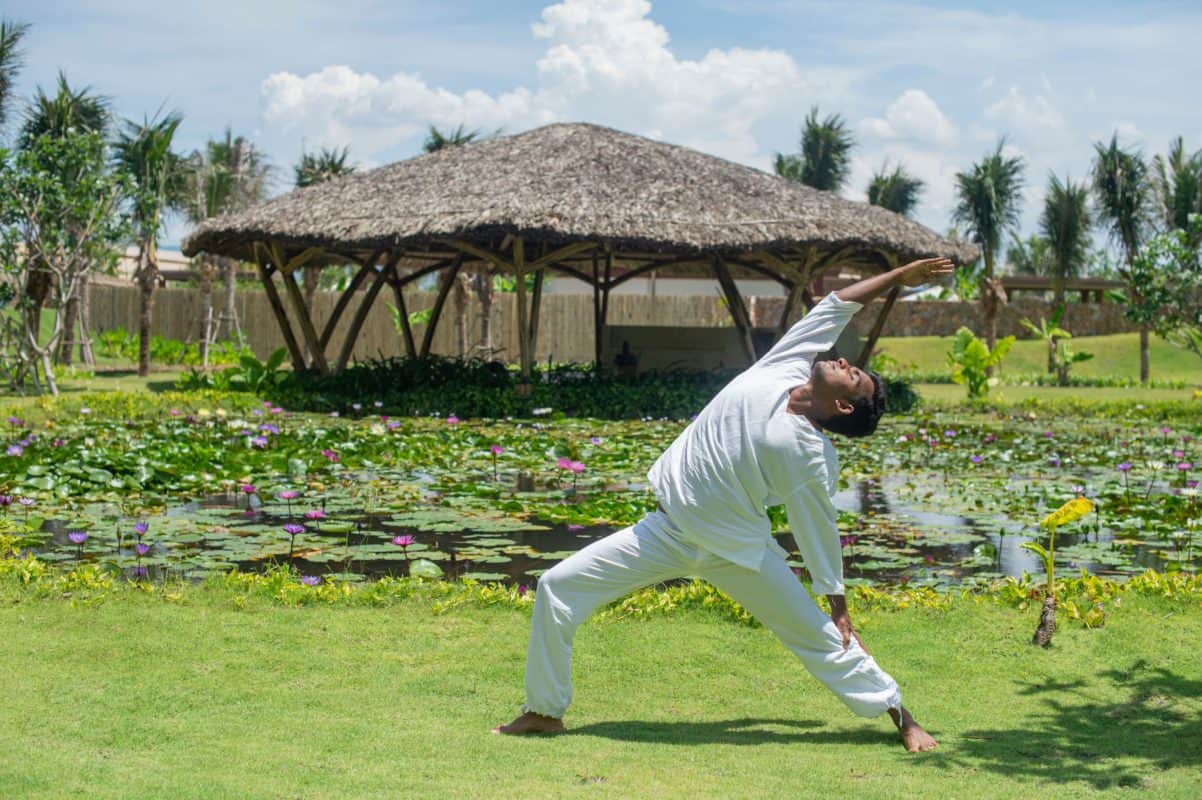 Practicing yoga with Fusion Resort Cam Ranh's resident yogi Vishnu Harshan
February 21st, 2020
The benefits of including yoga in your daily routine are immeasurable. From increased flexibility and muscle strength to improved energy and vitality, yoga can work wonders for your mind, body and soul.
Physical, mental and spiritual disciplines, such as yoga and tai chi, form the bedrock of Fusion's wellness ethos, complementing our range of spa therapies, rituals and treatments. To find out a little more about the many benefits of yoga, we asked Vishnu Harshan, wellness expert and yogi at 
Fusion Resort Cam Ranh
, for his advice.
Vishnu explains his daily regimen is inspired by the ancient Ayurvedic way of life which promotes a balance between body, mind and soul and encourages an active lifestyle and healthy diet.
He wakes at brahma muhurta, shortly before sunrise, and after ensuring his body is warmed begins an early morning yoga routine. This starts with Surya Namaskara, the Sun Salutation, and ends with Shavasana, the Corpse Pose, making sure his body and mind are completely relaxed and energised, ready for the day ahead.
"The first thing when starting to practice yoga is understanding and adapting to the real concept of it" explains Vishnu. "Yoga is a way of living rather than just a physical exercise. Unfortunately, it is regarded widely as a way of keeping fit."
According to Vishnu, yoga is 'stilling the fluctuations of the mind'. By following the '8 limbs' of yoga which govern attitudes to ourselves and our environment, our physical posture and breathing, and a meditative state of concentration, we can reach a union of body, mind and soul.
While practicing postures is the part that opens our body channels for free flow of vital force, ensuring your body is properly aligned so you get the full benefits of each pose, trying to find awareness in each movement, and not forcing yourself to do too much, is advice Vishnu shares with students who come to practice with him at the resort.
Adopting the correct breathing techniques is also important for reaping the full rewards of yoga, Vishnu explains. Beginners should try to breathe 5 times while holding their pose, and remember to take a deep breath in their final posture.
"Eat three balanced meals each day, with the heaviest meal and lunch, and the lightest at least three hours before bed" he recommends, "Do not eat until your stomach becomes full. Enjoy until it is half full, then fill a quarter with water and leave a quarter empty to balance space and ease digestion."
Sleep is also important for a healthy, balanced lifestyle, and is one of the three pillars of life, according to Ayurveda teachings. "I try to have consistency in my sleeping time, going to bed before 10 most days so I can wake early in the morning." Vishnu shares. He also recommends avoiding day sleeping as it affects the biological clock and can lead to health problems.
By following the Ayurveda way of living, and practicing yoga, you can bring many benefits to your life, both physical, mental and spiritual.
Back